It has been a long time coming, but Opera Mobile 9.5 (beta) is available for download. It has been delayed a couple of times and saw a version bump from 9.0 to 9.5 to bring it into line with Opera 9.5 for desktops. It made it's first appearance on the HTC Touch Diamond (with support for the built-in accelerometer for screen rotation) and now is generally available for all touch-screen WM5/WM6 devices, with support for other mobile devices and operating systems to follow soon.
The browser itself is very slick and very full featured. It supports;
tabbed browsing (max 3 tabs at a time)
overview / adaptive zooming with extra zoom-in and zoom-out options in the context menu and configurable zoom settings (enter opera:config in the address bar)
intelligent text wrapping to avoid horizontal scrolling while reading
auto-complete list of previously visited sites when typing in an address
copy and paste mode and a Save image option
saved pages for viewing offline
"find in page" searching
bookmark synchronisation between mobile and desktop using Opera Links
and a whole lot more...
Opera Mobile 9.5 is also powerful enough to use the "advanced" version of Gmail and applications built with the ExtJS library, which I think is pretty outstanding :) It is also supposed to be using the same engine as the desktop version of Opera with the same support for (X)HTML and CSS standards (though they note that this beta version doesn't currently pass the Acid 2 test). It will be interesting to see some JavaScript benchmarks, both now while it's in beta and after it's final release.
Here's a pic of Gmail on my phone in the zoomed-out overview mode: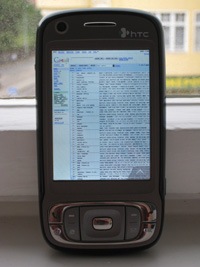 Good times ahead for mobile browsing!