No doubt you've seen that today Apple launched the Safari 3 beta which includes support for Windows. And if you've installed it then no doubt you've seen the complete mess it makes on your screen when displaying text...
No, I'm not talking about the expected issues that come with beta software, I'm talking about Apple's great font "smoothing" algorithm that makes text look like it has been bolded, outlined and then bolded a bit more for good measure.
I previously thought this font "smoothing" was just a "feature" of Macs. I have a 17" iMac G5 at work which I use for testing purposes (and other forms of target practice), and after trying to use the lightest possible font smoothing the text was still insanely bold so I just figured it was part and parcel of using OS X.
But, Safari comes to Windows, and what have Apple done?
OH MY GOD, MY EYES, THEY BURN!~...
Here are two screenshots for comparison. The only text in these screenshots that should appear to be bold is the blue text used for the headings and links:
IE7 / FireFox 2 / Opera 9 with ClearType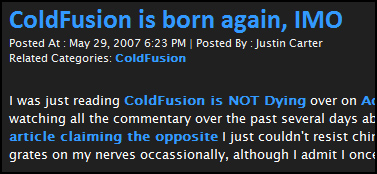 Safari 3 beta "font smoothing" aka font blurring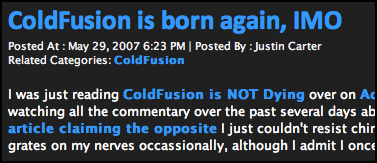 Is it really necessary to make the text so fat? All the shapely characteristics that make each letter of a typeface easily distinguishable from the others have been blurred into the next dimension! Normal text isn't supposed to be bold, and bold text isn't supposed to be black!
Apple, don't bring this crappy font blurring algorithm to Windows when we already have ClearType doing an infinitely superior job...